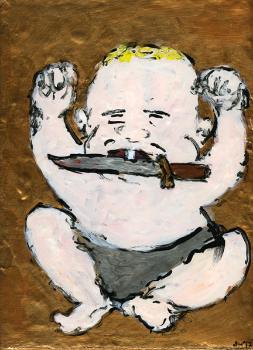 Above: No More Silver Spoons, Sarah Hauser, Strappo Monotype, 2012, 12" x 9"
Below Left: She's a Nine and a Half, Sarah Hauser, Strappo Monotype, 2012, 12" x 9"
Below Right: A Higher Power, Strappo Monotype, 2012, 14" x 11"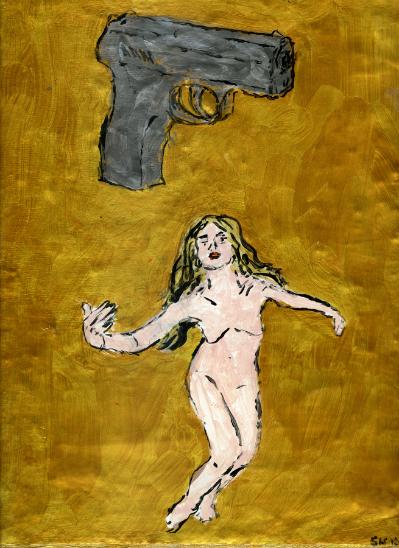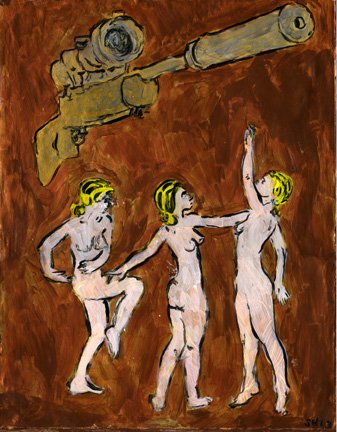 Manhattan Graphics Center
250 West 40th Street, Fifth Floor, NY, NY 10018
(212) 219-8783
http://manhattangraphicscenter.org
Hours: Mondays: 6pm - 10pm
Tuesdays-Fridays: 10am - 10pm
Saturdays & Sundays: 10am - 6pm
Are we in modern times? The world we live in has become increasingly surreal and out of proportion, at times resembling a science fiction or horror movie from the 50s or 60s. Entertainment is obsessed with guns and women. Fundamental religious beliefs are in continuous conflict with each other and themselves. Children are blasted with these obsessions from birth. Sarah Hauser tries to capture these enigmas of modernity by depicting women in classical poses juxtaposed with weapons, as well as armed infants.
Sarah has lived and worked in New York City since 1979, and has exhibited in the U.S. and abroad at such venues as Woodward Gallery, International Print Center of New York, Purdue University, Woman Made Gallery, Lake George Arts Project, and KIWA Exhibition and Tour in Japan. She is represented by Woodward Gallery in New York City.
These works are strappo monotypes, a process developed and taught to Sarah by artist Harold Garde. Strappo prints are created by painting with acrylics on glass. Because the first brushstrokes you put on the glass will end up being the top surface of the print, it is quite a unique way of developing an image. When the image is completed, it is peeled off the glass and transferred, using gesso to adhere it to paper, canvas or panels. The process lends itself to experimentation with layers of colors and patterns. There is also a great deal of flexibility in creating the image, as one can always scrape back into the image, creating textures or cutting whole sections away.
To see more of Sarah's work, please visit http://sarahhauser.neoimages.net.
For further information, contact
Sarah Hauser
.